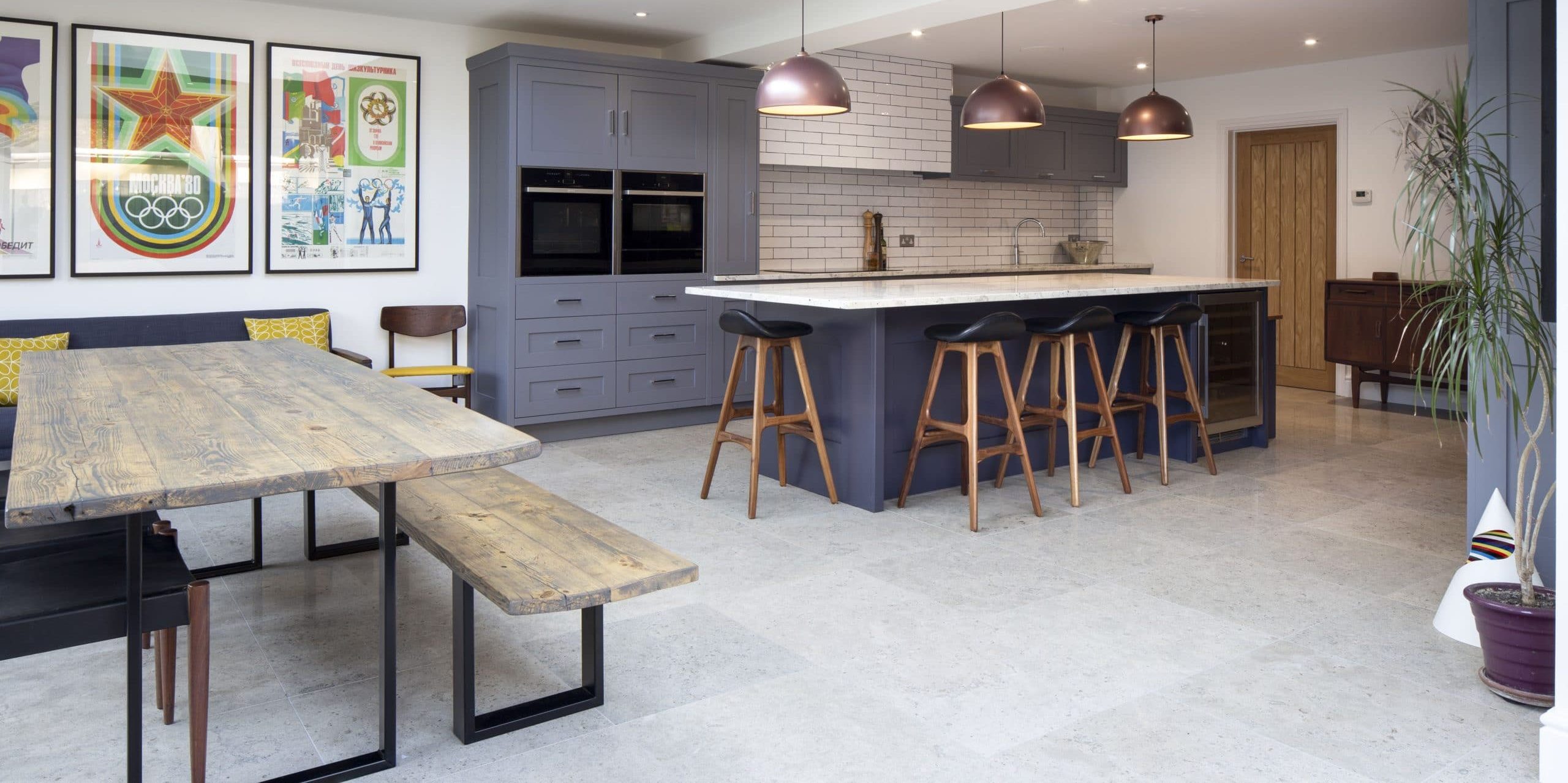 Which kitchen worktop colour should I choose?
A kitchen worktop is the centrepiece of any new kitchen. It must be practical and easy to look after but must also compliment the design of the kitchen and the interior colours chosen.
The worktop must be chosen to complement other features in the room. A dark worktop will often be the primary design feature in the room. Paints and fabrics must then be chosen as subtle compliments to back up the worktop. This choice can lead to a bold and dramatic design.
However dark colours also tend to absorb light and it is more common to choose a light worktop especially if the room is dark and has restricted natural light. In this scenario, a light worktop can brighten up a dark room and give it new life.
Which kitchen worktop material should I choose?
There are many different materials that can be used as worktops in a new kitchen. Enclosed below is a list of the most common with their key characteristics
Quartz – Quartz is a manmade material. It is available in a vast array of different colours and finishes. There are a large number of manufacturers ranging from well-known brands such as Caesar stone and Silestone through to lower-priced alternatives such as Horizon and Nile. Quartz is a practical and durable choice – it does not need to be sealed. It is easy to live with – you simply need to remember not to put a hot pan straight from the oven straight on the surface and use a trivet
Granite – Granite was always the traditional choice as a kitchen worktop. It is very durable and easy to look after. It needs to be sealed on installation and periodically resealed afterwards. There are a large number of dark granites but a limited number of light colours. It is easy to maintain over a period of time and simply needs to be cleaned with a natural stone cleaner to maintain the finish
Porcelain – Porcelain is the most practical and easy to maintain surface you can use as a worktop. It cannot be scratched, marked or stained. Suppliers are developing and enlarging their ranges but the colour choice is still limited in comparison to other alternatives.
Slate – Slate can be used as a worktop but has limitations. It is a natural material and therefore needs to be sealed. It can be marked by acids and is also prone to scratching. The range of colours varies from black to grey and is therefore limited
Marble – Marble was the traditional choice for those who wanted light coloured worktops. However, marble can be easily marked by acid and is much harder to maintain than quartz. Therefore it is rare that it is used as a worktop in modern kitchens
Which worktops are in trend for 2022?
The trend towards blue to grey paints in interiors dictates the choice of worktop for many clients. The most popular worktops tend to have white – light grey backgrounds with marble-like veins across the surface.
There are lots of quartz options in this area and therefore the homeowner/designer has plenty of choices. These light worktops have the advantage of making the kitchen brighter due to their reflective nature.
Bestsellers for A F Jones in the last 6 months have been Classic Quartz San Vincente and Nile Carrara.
Can't see your question answered? Ask us direct: