Inspirational Stone Interiors
Bespoke and beautifully crafted stone interiors that evoke awe and admiration. With scope of work ranging from private domestic clients to world-renowned Architects and Designers; no project is too big or small.
Through working closely with our clients and their professional team, whether designers or their appointed contractors, we pride ourselves in being a strong partner for all project types and processes. Creating truly individual and perfect finishes within the home.
If you are looking for some stone directly for your home, we're on hand to discuss all of the options with you. From the stone selection to finishes and specs. Allow us to guide you through the steps of getting the perfect stone for your home.
Co-ordination across many rooms can offer cohesion and elegance to a final living space. On hand to assist with the overall design and detailing journey to create elegant interiors with stone surfaces, we make the process as streamlined as possible.
Use our expertise for selection, detailing and advice, blended seamlessly with your kitchen design expertise to create the best kitchens. We then deliver a full service including templating, drawing, manufacture and installation.
We're a specialist sub-contractor, primed to seamlessly integrate with other trades on all projects. With site and logistical coordination taken care of and full CHAS & Construction Line Accreditation, you can trust us to deliver the quality needed in your projects.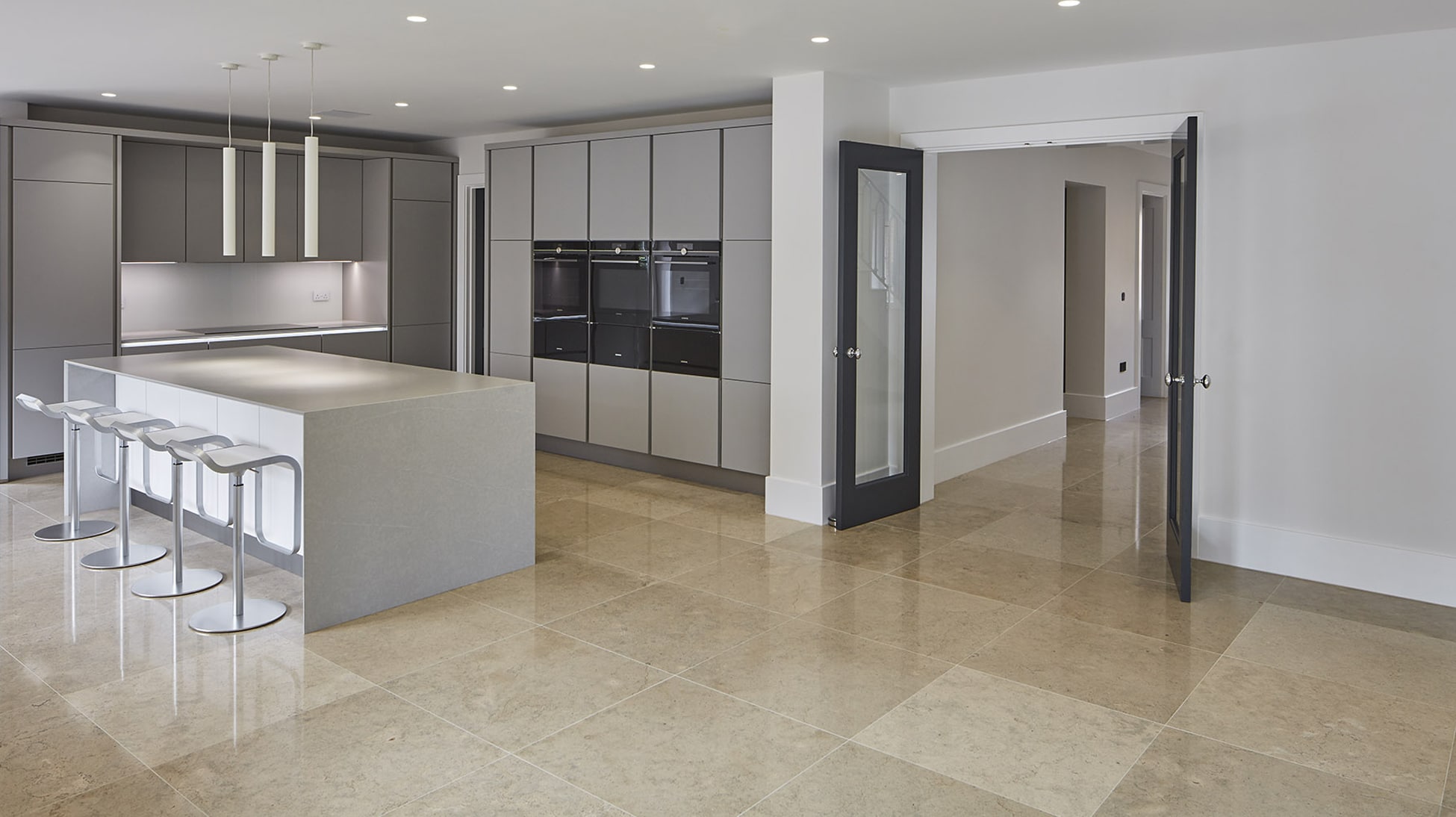 A contemporary internal fit out for a private residence in hampshire, featuring Moleanos Blue Limestone throughout the internal living areas. A grand bifurcated clad staircase creates visual impact upon entrance into the home.

Their service was professional, friendly with a high attention to detail and an end result that is fabulous. This is a business that cares about a high-quality crafted finish and are passionate about every aspect of customer satisfaction. An impressive company.
– Dave, Brown
Very friendly and welcoming. Listened to what my specifications were and definitely delivered. I would recommend A F Jones and would use them again.
– Barbara, Millward
We were impressed by the care Niall took over the templating, the craftsmanship of the cutting process and the expertise demonstrated during installation. So pleased with the quality of our worktop and the attentive customer service – would definitely recommend.
– Vicki, Hearn
(They have) been very responsive, professional and informative. Highly recommend!
– Emma, Gibson